MY AMATEUR RADIO CALL SIGN VR2XIE
Since 1999, I have a chance to aware the Morse Code, it aroused a very big interest to myself. I found this is a very special and just using simple tools to communicate with other Radio Hams wireless.

Morse LED Watches
Then, I developed the first Morse Code watch. After that, I also aware that if I operate Morse in Hong Kong, I need to take the exam organized by the Communications Authority.
My QSL card :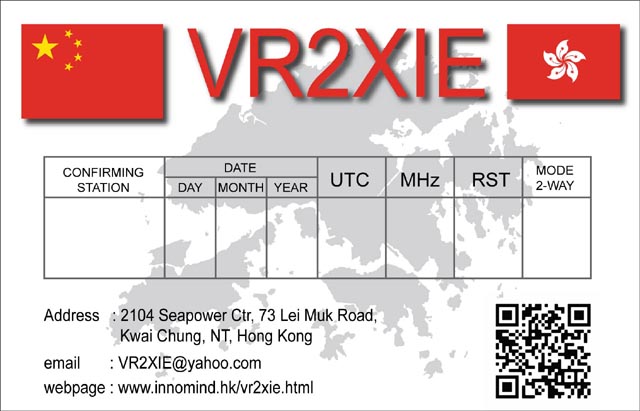 VR2XIE-QSL-Card
So delight to get my Hong Kong Amateur Radio Test Examination passed on 27th Oct, 2012. It took me half year to study the material from web and printed material. The meaning of VR2 is Hong Kong. And the last 3 alphabets I selected XIE.
The "XIE" in Mandarin Chinese is the pronunciation of "謝" . It means "Thanks". And also this Chinese Character can mean one of the common Surname. So, I apply this call sign for myself.

Morse 2 Watch
Recently, I have more time after 2 daughters go to junior school. And I come up with some new ideas to put the Morse Code into the second generation as Morse 2 Watch. It can be customed to each individual Radio Ham call sign and burn the code into the watch MCU.

Hong Kong Radio Repeaters :
VHF / 144-145MHz
CQARA
VR2HKR:
145.100MHz (RX)
145.700MHz (TX)
CTCSS 110.9Hz

ARSN
VR2TKW:
144.975MHz (RX)
145.575MHz (TX)
CTCSS 110.9Hz

HKARA
VR2A:
145.025MHz (RX)
145.625MHz (TX)
CTCSS 110.9Hz

VR2Z:
145.850MHz (RX)
145.450MHz (TX)
CTCSS 110.9Hz

VR2HAM
VR2HKI:
144.900MHz (RX)
145.500MHz (TX)
CTCSS 110.9Hz

CARSC
VR2RC:
144.650MHz (RX)
145.250MHz (TX)
CTCSS 110.9Hz

HARTS
VR2HKA:
145.150MHz (RX)
145.750MHz (TX)
CTCSS 110.9Hz

---
UHF / 430-435MHz
Repeaters of UHF/430-435MHz, please click here